Rear Muffler Bypass
1990 928 S4
June 30, 2000
On June 14, Dave Roberts posted an email to the 928 rennlist regarding a sale on their Original Rear Muffler Bypass. Since the 90 S4 seemed a little too quiet (compared to the 81 with Borla exhaust) and the never ending need for more power I decided to order one. The package from 928 Specialists arrived on Thursday June 22, and I installed it on Thursday June 29. I would have done it earlier, but I was working on the door handle.
I started by removing the old muffler. It's held on by 2 pipe collars on the front and 2 bolts on the back. First I jacked up the rear of the car. Then I sprayed a little WD40 on the threads to make it easier to remove the bolts. Next I placed a jack under the muffler (I heard this thing is heavy, and I didn't want it to fall on me). I then loosened the bolts holding on the collars, they're 13 mm and I used a socket on the nut and held the bolt with a open end wrench. Next I removed the bolts at the rear. This required a 13 mm box end wrench and a socket. It's a little harder to get to, but I managed it without losing any skin.
After removing all the bolts, I spread the collars and slide them onto the exhaust pipe. I then lowered the muffler out of the way. I made sure the couplers were still on the exhaust pipe before installing the RMB. The RMB has two hangers welded on the back that slide into the existing brackets. Once the back was in place I slide the collars over the front pipes and tighted the bolts.
The whole process took less then 1/2 hour and the cost was $109.00 including shipping. I must say the car sounds a lot more impressive now.
The new RMB installed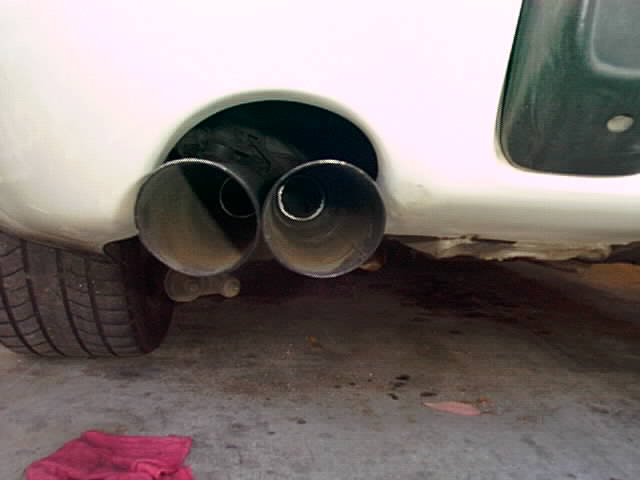 Next Page
---
Contact me at: <jorj7>

Copyright 2000, George A Suennen
written: 07/03/00
rev: 05/30/03