June 08, 2003
I needed a way to transport some tires to and from different events. I only had room for two tires/wheels inside the car with a passenger and the roll bar in installed. So I looked for possible solutions. What I found was a ski rack designed for the 928 from Porsche. It was on ebay for $150, so I figured I'd give it a try. The package arrived and it was still in the original box.

Bill was helping me bleed the brakes (with his new Power Bleeder) and I enlisted his assistance in installing the rack. We unpacked the box, finding 2 rack, 2 sets of instructions (1 all German, 1 with German and English) dated 1978-79, and some mounting hardware. We placed the front rack on the roof, looked at the hardware, then decided to read the instructions.

It turned out to be very simple, just place the brackets under the rim of the roof and tighten the screws. On the back the holes were already drilled and capped with 2 allen head bolts. We thought it amazing that Porsche would still keep the holes in the hatch area on the 90 models. Also that the whole installation could be done without drilling, bending or hammering anything.

Next I cut 4 strips of plywood 2 inches wide and 2 1/2 feet long to mount between the racks to support the tires.
The whole process took about 1/2 hour.
Roof Rack Installed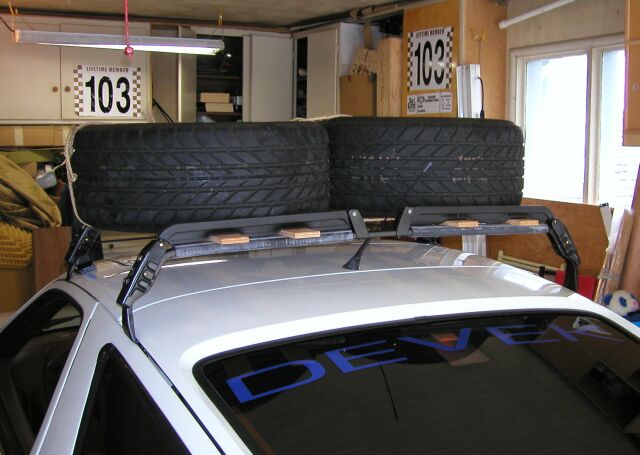 ---
Contact me at: <jorj7>

Copyright 2003, George A Suennen
written: 06/09/03
rev: 10/09/03