Fire Extinguisher
1990 928 S4
July 30, 2000
A fire extinguisher is required by most racing organization, so if I figured I'd better install one. This was a simple modification. I ordered a mounting bracket and fire extinguisher from DEVEK. It's designed to fit on the hump between the two front seats. I wanted one that's easy to get to, and easy to remove.
I started by removing the cassette tray between the seats. It's held on by 4 phillups head screws. I then positioned the bracket so the predrilled holes lined up with the existing screw holes, and reinstalled the screws. I slipped the fire extingisher into the bracket and checked the position. I found I needed to move the bracket to it's furthest forward position (slotted screw holes) to fit correctly between the seats. I then tightened the screws.
The entire process took about 15 minutes, and cost a little over $50.
New Fire Extinguisher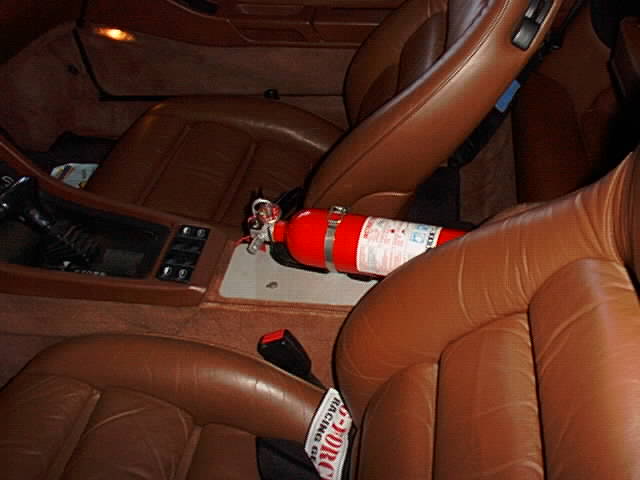 ---
Contact me at: <jorj7>

Copyright 2000, George A Suennen
written: 09/04/00
rev: 09/05/00