May 2, 2000
I picked up some "new" wheels this weekend. Brian Wollard had sent an email to the 928 Rennlist, offering his old wheels from his 89 S4 for sale. He had bought a new set of 17" wheels from Devek in November. After a few emails and phones calls over the price and logistics, I arranged to pick them up Saturday.
I had called Devek to check if the S4 wheels would fit on my 81, and they confirmed that there would be no problem.
The wheels had Bridgestone Potenza RE71s (245ZR45 16) on the back and other Bridgestones (225ZR50 16) on the front. The back tires were pretty worn, plus one (left rear) had a nail in it. The fronts seemed in good shape.
I took the left rear tire to Mike at Berkeley Tire to get it patched. I figured I could drive on it until I got new tires shipped in. They installed the patch, but the hole was close to the sidewall, so it didn't hold. Mike was very reasonable, said there was no charge.
My son Josh, with one of the new wheels in front of Brian's 89 S4.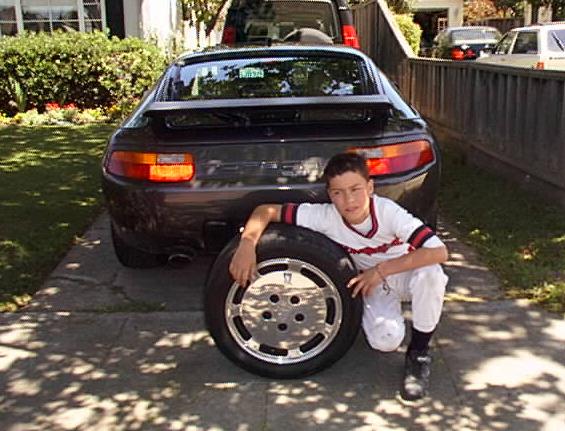 May 24, 2000
The new wheels on my car. I'll get the new tires next week.

June 1, 2000

I'll be putting on my new valve stem caps this weekend.
New tires at Griffin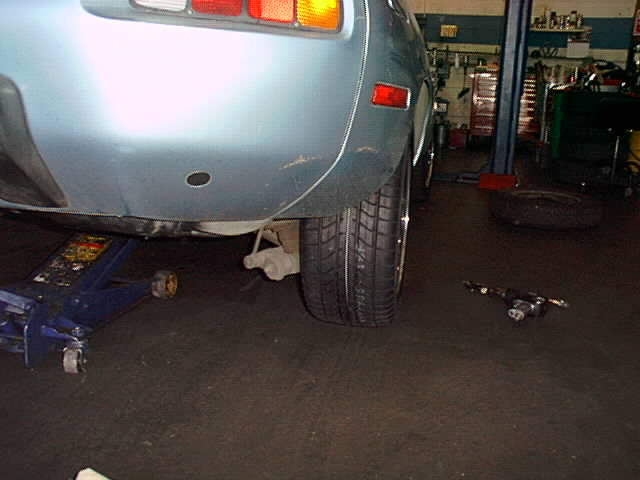 Site Evaluation
---
Contact me at: <jorj7>

Copyright 2000, George A Suennen
written: 03/23/00
rev: 07/26/00