I had already replaced the other components of the ignition system, so I decided I'd might as well replace the ignition coil. I had read that it's a good idea to replace the coil every 5-10 years and this look like it was the original.
It's a good idea to disconnect the negative lead from the battery before you start.
The ignition coil is located in the engine bay, driver's side. It's held on by two 13mm bolts and has three wires attached. Mine had a cover over the wire terminals. I remove the air intake hose, it can be pulled off at each end then slip out under the cross brace. Then remove the bolts, holding the coil as you loosen the second bolt, so it doesn't fall and pull out the wires. I pried the cap apart to expose the wire terminals and ignition coil wire. The ignition coil wire (connecting to the distributor) can just be pulled out. I marked the positive lead with tape and remove the 8mm nuts that held on the other 2 wires. I attached the wires to the new coil, taped wire to positive. I pushed in the ignition coil wire, and tried to reinstall the cover. The new ignition wire that I had gotten with the new spark plug wire set had a larger cap then the old one, so I couldn't close the cover. I left it off for now, while I think of something else.
I then positioned the new coil at the original's location and installed the old bolts. I jumped in and started the car. No problem, it even sounded better (wishful thinking?).
The whole process took about 30 minutes and cost $45.
Before:
With Air Intake Tubes removed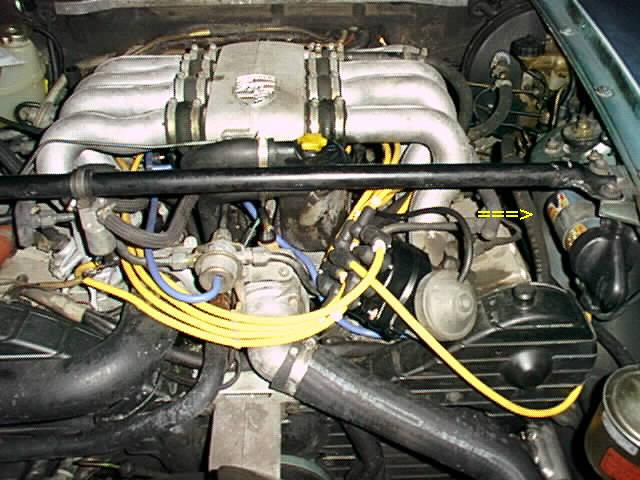 After: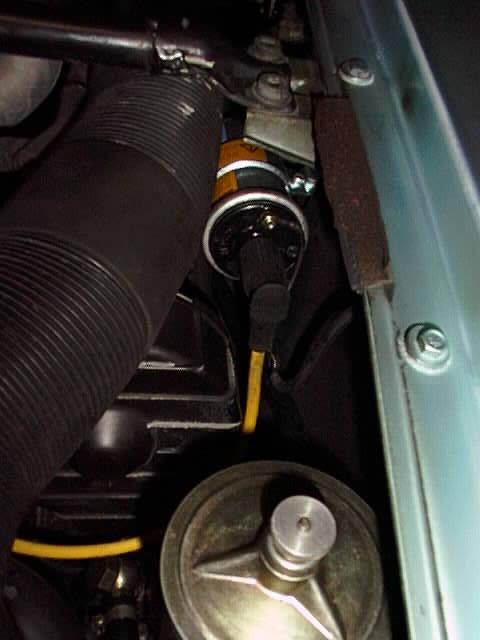 ---
Contact me at: <jorj7>

Copyright 1999, George A Suennen
written: 12/6/99
rev: 06/16/00