Gambler's Run
1990 928 S4 
August 19-22, 2004
Open Road Rally
Elko, Nevada
| | |
| --- | --- |
| | The Gambler's Run was run from Elko, Nevada north on highway 225 to the Wild Horse Ranch and back to Elko for a total of 94 miles. This year NDOT had scheduled to complete road work on 225 before the start of the rally, but due to rain had not completed the work. As a result the course was shorted to 90.54 miles. This was the third year MKM Racing Promotions put on this event. They're web address is www.openroadracing.com. |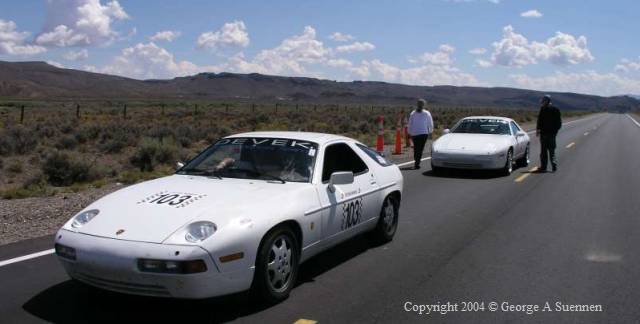 There were three 928s from NorCal928 entered in the Gambler's Run. Paul Mooradian in his 82S, Tim Dey and his wife Cheryl in his 94 GTS and me in my 90 S4 with Tim Bosserman as my navigator.
There was rain predicted again for race day, with a 7 mile section of road limited to one lane because of road work and the Air Rescue Helicopter not available, people were a little worried about the race. But we were able to get the whole race in before the rain hit, though there was a strong (10-15 mph) head wind on the way back.
The 928s

George A Suennen/Tim Bosserman
1990 928 S4
Grand Sport 155 class

Paul Mooradian
1982 928S
Grand Touring 135 class

Tim/Cheryl Dey
1994 928 GTS
Grand Touring 125 class
| | |
| --- | --- |
| | This year I bought a new Mini-DV camcorder and was able to get the complete run on digital video. I made a SVCD video disk, playable on many new DVD player, and on newer computers with special software that can decode mpeg-2. I'm selling the disk for $10 + shipping (to cover the production cost). I put a couple of samples on my site: |
928 Results
Division
Target
Number
Driver/Navigator
Model
Finish
Times/Avg Speed
Fastest Radar
Grand
Sport
155 mph

103

George A Suennen
Tim Bosserman
90 928 S4

1st

37:06.057 (+0:3.207)
154.764 (-0.236)
168 mph
Grand
Sport
135mph

112

Paul Mooradian
82 928S

1st

40:14.318 (-0:00.082)
135.005 mph (+0.005)
156 mph
Grand
Touring
125 mph

78

Tim Dey
Cheryl Dey
94 928 GTS

1st

43:47.138 (-0:00.414)
125.020 mph (+0.020)
139 mph
This was another great event. All the 928s ran well, we all finished 1st in class. We helped Team Porsche win the Team Challenge for the first time in a MKM event. The supercharger worked well, I had installed and extra 16" fan in front of the radiator. This seemed to take care of the overheating problem.
Next Event
---
Contact me at:
<jorj7>

Copyright 2004, George A Suennen
written: 11/11/04
rev: 09/18/07