Bonneville 100
1990 928 S4 
July 22-25, 2004
Open Road Rally
Wendover, Nevada
| | |
| --- | --- |
| | The Bonneville 100 was run from Wendover, Nevada south on highway 93A to the Elko county line and back to Wendover for a total of 101.6 miles. This was the third year MKM Racing Promotions put on this event. They're web address is www.openroadracing.com. |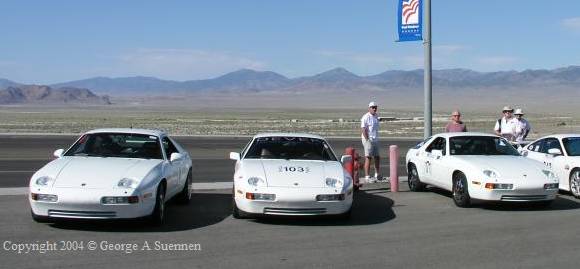 This year four white 928s, three from NorCal928, entered the Bonneville 100. Bill Ball in his 89 S4, Tim Dey and his wife Cheryl in his 94 GTS and me in my 90 S4 with Tim Bosserman as my navigator and Dave Lomas from Utah in his 86S. This was Tim's first event. He had his car worked on at DEVEK before the event and was ready to compete.

This is the second race that I would get to try out my new Murf 928 supercharger. I had run the Pony Express before in the 155 class, but the rally was Red Flagged before I was able to complete my run.
After the last event everyone was a little apprehensive, but this time everything went perfect. The race started on time and ended without any problems.
The 928s

George A Suennen/Tim Bosserman
1990 928 S4
Grand Sport 155 class

William Ball
1989 928 S4
Grand Sport 140 class

Dave Lomas/Joe Fugate
1986 928S
Grand Touring 125 class

Tim/Cheryl Dey
1994 928 GTS
Grand Touring 125 class
928 Results
Division
Target
Number
Driver/Navigator
Model
Finish
Times/Avg Speed
Fastest Radar
Grand
Sport
155 mph

103

George A Suennen
Tim Bosserman
90 928 S4

2nd

39:19.033 (-0:0.709)
155.047 (+0.047)
167.54 mph
Grand
Sport
140mph

171

Bill Ball
89 928 S4

3rd

43:31.054 (-0:01.508)
140.081 mph (+0.081)
165.20 mph
Grand
Touring
125mph

87

Dave Lomas
86 928S

1st

48:46.595 (+0:00.515)
124.978 mph (-0.022)
137.20 mph
Grand
Touring
125 mph

4

Tim Dey
Cheryl Dey
94 928 GTS

5th

49:12.850 (+0:36.770)
123.867 mph (-1.133)
129.31 mph
This event was great. All the 928s ran well, we got a 1st, 2nd, and 3rd in class. The supercharger worked out good, though I did have some overheating problems. Dave helped me out with a temporary fix but I'll be checking this out before the next event.
Next Event
---
Contact me at:
<jorj7>

Copyright 2004, George A Suennen
written: 11/11/04
rev: 09/18/07